Online Patient Scheduling for Chiropractors
Online scheduling saves time and money, and your patients will love it.
Note: Online Scheduling will not be available until December 22, 2018
All The Features You Need From An Online Patient Scheduling Solution.
Our patient scheduling software allows clients to securely book appointments at their convenience. Patients love the process because it saves them the headache of having to call in to schedule. Practitioners rave about it because it streamlines their booking workflow, in the process saving time and money. And with automated email and text message appointment reminders, no-shows are a thing of the past.
Give your patients what they expect. 60% of clients want to book online. Use our online booking widget to instantly embed the entire booking and payment experience on the web and mobile versions of your website.
Reduce no-shows and increase revenue. Statistics show that patients are 50% less likely to no-show for their appointment when they self-schedule.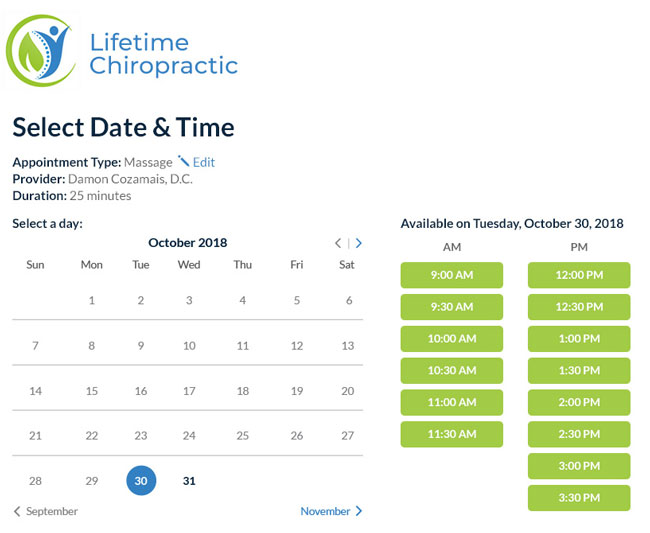 Calendar Sync
With 2-way live appointment sync, you'll never miss a beat.
Appointment Reminders
Reduce no-shows with free automated appointment reminders.
24/7 Availability
Have a virtual assistant available 24/7, 365 days a year.
Unlimited Services
Add all the services that you offer to your online booking page.
Start Taking Online Appointments Today
Note: Online Scheduling will not be available until December 22, 2018
Frequently Asked Questions
Can I integrate online scheduling to my Facebook account and website?
Yes! Simply copy and paste your custom appointment booking code to your Facebook page and website to start accepting online appointments. It's really that simple!
Is your online scheduling app mobile responsive?
Yes, our online patient scheduling software is designed in such a way that appointments can be scheduled with phones, tablets, laptops and desktops. 
How many staff and services can I add to the system?
There's no limit. You can add how many ever you want. ChiroFusion scheduling is designed for offices of any scale. Happy booking! 🙂
Do I need a website to use online scheduling?
You don't need a website to accept online appointments. We provide you with a custom booking link that you can share with your patients via email or through your social media accounts. 
Will I be alerted when appointments are scheduled online?
An email will be sent to you as soon as a patient schedules an online appointment with your office. Our system also sends an email notification about the details of the appointment to the patient. 
Can I restrict how far in advance appointments can be made?
Absolutely. In addition, you can define when your schedule becomes available (lead time). For example, you may permit patients to book appointments from tomorrow on through the next six weeks.
Can I limit online scheduling to specific Providers and services?
Our online scheduling module is highly customizable allowing you to limit scheduling to specific providers, services and time slots. 
Is there an additional charge for online scheduling?
Online scheduling can be added to your practice for an additional $49/mo regardless of the number of providers and staff. 
Start Taking Online Appointments Today!
Patients who self-schedule are 50% less likely to no-show.